There is a number of courses including: Overview of project management methods, starting Agile methods, advanced course of Agile methods and Scrum process, workshop on adopting agile methods, consultancy on adopting agile methods, agile methods and Scrum process audit, and Individual coaching.
The booking of our training courses can be made on our partner platform:
Zuzana "Zuzi" Šochová is an independent Agile Coach and Trainer and a Certified Scrum Trainer with more than fifteen years of experience in the IT industry. She started with Agile and Scrum back in 2005, when she was implementing Agile methods in the USA. From that time, she has been credited with Agile transformation and implementation for many companies and teams around the world.
She is a Certified Scrum Trainer (CST) with and also a member of the Board of Directors of Scrum Alliance. Zuzi has trained thousands of ScrumMasters and Product Owners. By creating and sustaining Agile Leadership, Zuzi believes the world of work and life can be made happier and more successful.
She is an author of The Great Scrum Master: #ScrumMasterWay book (Addison-Wesley Signature Series (Cohn)) and inventor of the #ScrumMasterWay concept.
She is a founder of the Agile Association (Agilni Asociace, agilniasociace.cz) Czech Republic, organizing the Agile Czech community and annual Agile Prague Conference (agileprague.com). She is a regular speaker at international conferences.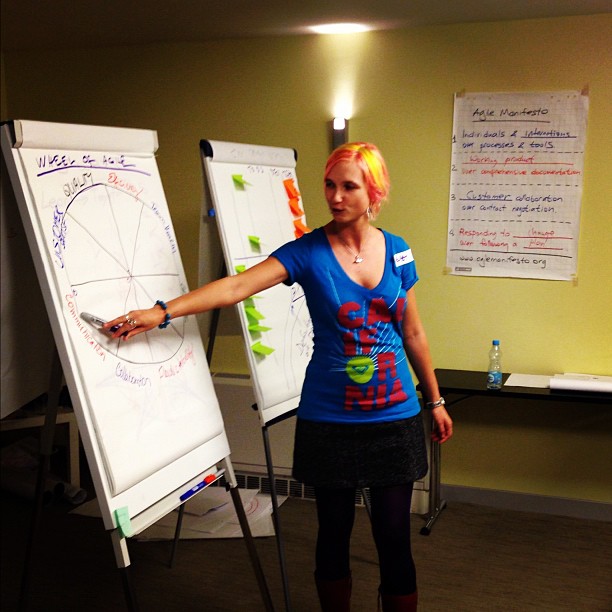 The Great ScrumMaster: #ScrumMasterWay
I spent more than a year writing and drawing my new book The Great ScrumMaster – #ScrumMasterWay which is now available from online bookstores.
It is a guidebook for all ScrumMasters, Agile coaches and leaders who want to transform their organizations. It's intended to give you a reference to general concepts which every ScrumMaster should understand and point you towards resources which may help you in resolving difficult situations. Perhaps it's better to read the book than write about it.
The book is published by Addison-Wesley Professional as part of the Addison-Wesley Signature Series (Mike Cohn).
The book is in English, paperback version has 176 pages and foreword is written by Lisa Rising. Check GreatScrumMaster.com web page for more details. Purchase book now.
Update: The book is available in the Russian, Simplified Chinese, Traditional Chinese, Japanase, and Czech language as well. See GreatScrumMaster.com web page for more details.
References – Agile Coaching, Trainings and Workshops
Agile transformation, consultancy, agile coaching, trainings and workshops, open and company trainings focused on Agile methods, Kanban and Scrum process in software companies, banks, insurance companies, plants, telecommunications, marketing agencies, and many more corporations and small companies and their employees in the Czech Republic or abroad – i.e. USA, Germany, UK, The Netherlands, Latvia, Estonia, Vietnam, India, Slovakia, …
Zuzka helped us in transforming Acision R&D CZ from a traditionally waterfall/corporate driven R&D organisation into very efficient agile organisation. We hired Zuzka to help us with initial assessment and trial with one project/product. The cooperation was extended and together we transformed all the other product teams successfully.
I liked Zuzka for her ability to explain the agile principles, methodology, key aspects of important roles in SCRUM. She initiated a mindset change of key individuals in the R&D organisation and helped them to inject the same to their teams.
Zuzka is mastering the transformations towards Agile/SCRUM and is able to coach various levels and roles in the multinational organisation.
I would highly recommend Zuzka to anyone who wants to transform his organisation towards agile/lean and wants to do it in great and often informal atmosphere.
Zuzko, thank you a lot!
I had a chance to work with Zuzi for about 3 month when she was assigned to coach me and my colleagues in Agile ways. During that short time she proved herself a skilled agilist and a patient, empathic and energetic Coach. Through her persistent and professional coaching she was able not only to educate and mentor whole teams, but also empower Scrum Masters and myself to continue in Agile transformation with passion and drive.